Our FTC team went to Busuanga Island to explore, have fun together, learn and build our team strength. Personally I have been to Coron frequently over the years, and witnessed its steady discovery internationally to a holiday destination absolutely worth your visit.
Busuanga Island lies North of El Nido and cannot be reached overland. Your either fly to/from Clark, Manila and Cebu, take a ferry to/and from Manila or Puerto Princesa- Coron once weekly or take a 4 hour fast ferry ride Coron-El nido or vv.
Our group opted to fly out to Clark airport taking the 06:45 am flight on a Saturday morning. Ideal if you are planning a weekend outing either personally of for your Company. And in our case we were able to visit our Filipino Travel Center office located in the 5-star ABC Hotel Angeles.
After a timely arrival at Coron Airport, we were picked up by the friendly staff of El Rio Y Mar Resort, one of the more affordable nice resorts in the area. Coming from the hectic of densely populated Angeles City, the beauty of the water surrounding El Rio Y Mar greeting us upon our 09:00 am arrival was so peaceful and inviting.
For more information about El rio y mar and optional tours you may click on
https://www.filipinotravel.com.ph/vacation-packages/busuanga-palawan/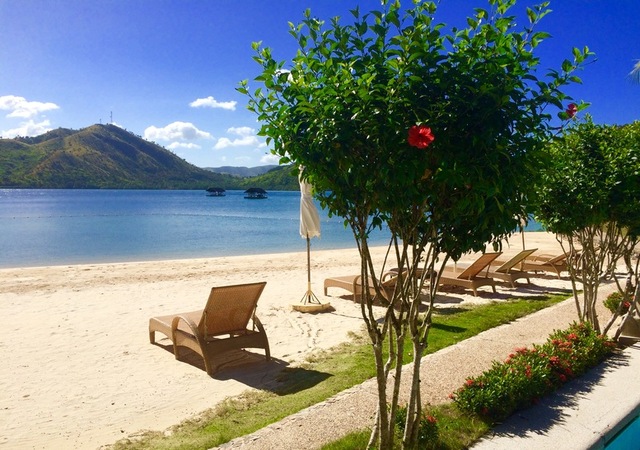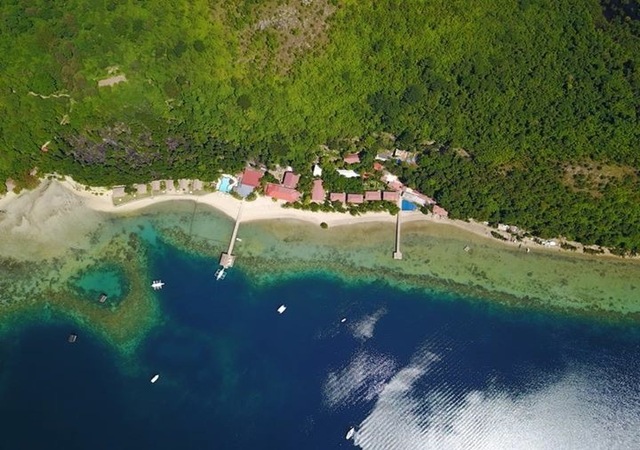 ---
Always willing to learn something new together our office team opted for "Discover Scuba". Discover Scuba is an introductory course to diving. Most of us in the Philippines were not really encouraged to learn to swim at a young age, unlike in Europe where this is obligatory. It was challenging at first to overcome our fears but the feeling of sheer freedom in learning how to live in a colorful, vibrant, brand new world under the ocean's surface was awesome and we all appreciated the acquired skills we had gained together. We felt in knowledgeable acquired skills we had gained together. We felt knowledgeable, safe and certified hands by www.dugongdivecenter.com, owned and manage by Dirk Fahrenbach.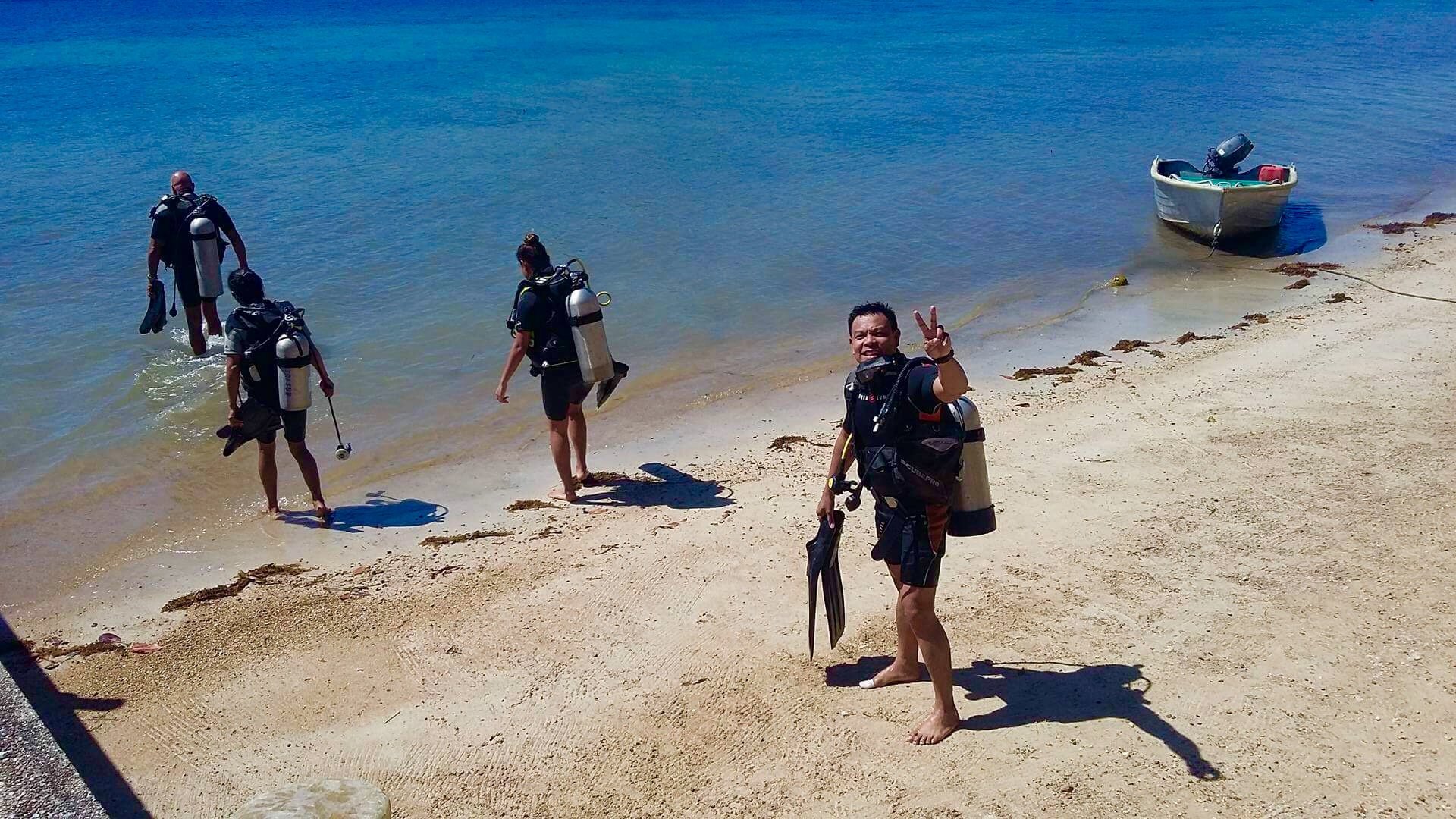 ---
After having a well deserved lunch and a dive in the swimming pool again, we left at 16:00 pm  for Coron town proper. Before going to the center of the city we enjoyed a cool drink at "Funny Lion Resort" offering a spectacular view of the setting sun over beautiful Coron Bay. With darkness the quickly falling, as it does in the tropics, we had an early team dinner at "Corto Del Mar Resorts" also one of our recommended resorts with its designed archways and outdoor swimming pool. As provincial life goes to sleep early, and all feeling quite tired from this first day, our group conveniently arranged ahead our own local outrigger boat charter, locally known as "banca" (yes… we remain Travel Consultants at heart always!) and all we had to do is roll in after our tasty dinner.
When you have to battle the beeping, tooting hustle and bustle of overcrowded Manila traffic every day, our team love the simplicity and peacefulness of life in the province. After a good night's sleep in the fresh, unpolluted air, we visited the local market first to select from a wide choice of fresh fish and shrimps, buy rice and ingredients for our healthy tomato/cucumber salad lunch we would be able to prepare during our Coron Island boat tour.
We began by visiting the amazing beautiful Kayangan Lake, a 45 mins banca ride from Coron harbor. Tip: leave early to remain ahead of the majority if mainly local tourists. Since we spent quite some time at Kayangan lake, we had lunch near the beautiful CYC island, another 45 mins banca ride away. After lunch we were brought to an impressive and reserve area with beautiful corals for snorkeling remembering not to touch or take anything and careful not to leave anything behind other than our footstep in the west sand.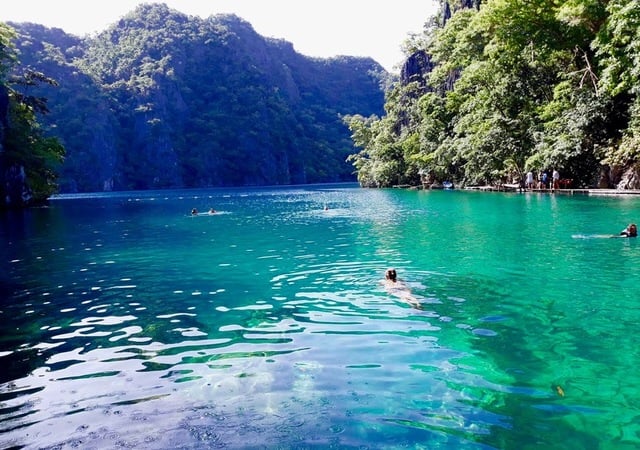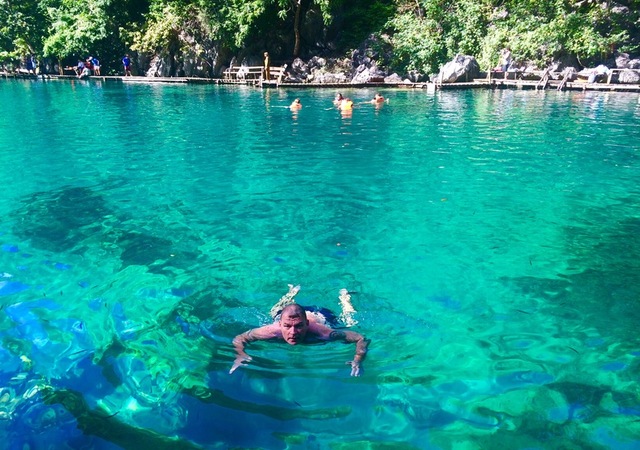 ---
Since we needed to go back to Coron town to catch our 2Go ferry back to Manila at 16:30 pm we opted to view the less visited and equally beautiful Barracuda Lake, having to skip yet another gem known as 'The Twin Lagoons". Something to plan for next time!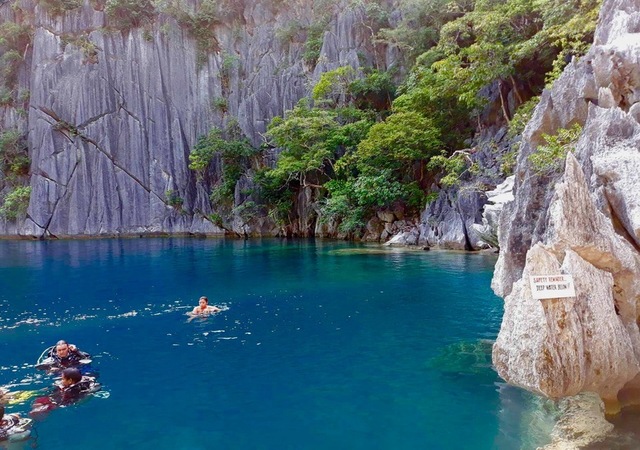 ---
At our request the boatman dropped us near the pier and we walked to the 2Go ferry, for which Filipino Travel Center is an authorized sales agent. We arrived on Monday in Manila at 07:30 am, had breakfast together and started working at 09:00 am, fueled with new team spirit and inspiration to provide advice to tourists from all over the globe. What a great weekend we had, full of activities and a beautiful, peaceful, tranquility not easily found in this increasingly busy urbanized world.
For vacationers with limited time, who still wish to combine nature and beach with heritage and activities a combination of a Coron visit and a trip to North Luzon to witness the rice terraces is Filipino Travel Center's recommendation. Please contact us for further information.