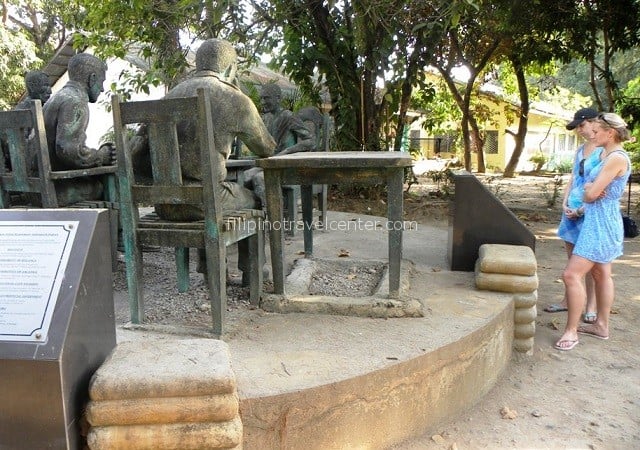 Tour description
Duration: 13 hours
Witness the heroism of Filipino and American forces during World War II as we drive through Bataan Peninsula visiting the sites where the Battle of Bataan took place, famous as the last joint stand of Philippines and American forces before being overwhelmed by Japanese forces in April 1942.
Drive through Bataan Peninsula, Philippines, with a dedicated guide visiting the sites where the historical Battle of Bataan took place in World War II.
Should you wish a longer tour, please check our 3 Days / 2 Nights WW II Tour in Bataan
World War II Historical Bataan Tour
Pricing
1 person : ₱ 9,500.00
2 persons : ₱ 5,350.00 per person
3 to 8 persons : ₱ 3,950.00 per person
Itinerary
Early rise as our private, chauffeur driven and airconditioned car will pick you up from your hotel at 05:00 am.
We drive to San Fernando Train Station, scene of where Filipino and US Prisoners of War where forced by the Japanese Army to march on foot the long way to Camp O'Donnel in Capas,  Tarlac.
We then drive to Bataan Pensinsula and pause at the Monument of Layac Junction – a key, first line, defensive position of the Filipino-US forces. It is also the 68th km point of the Death March in which 75,000 Filipino soldiers, 10,000 US troops and 20,000 civilians were forced to march by the Japanese.
We carry on to Balanga and visit the precise location where Major General King formally surrendered to Japanese Colonel Nagyama on 9th April  1942.
We then stop in the town of Bagac to pay our respects at The Zero Kilometer Death March Marker and on our way from Bagac to Pilar we drive to the Bell Tower – a  27m high tower erected in 1975 to commemorate peace and reconciliation between the Philippines and Japan. We then stop to reflect at the "Battle of the Pockets" marker and the "Pantigan River Bridge" where over 400 men were executed in cold blood.
Following lunch we head to the Mt Samat Shrine, commissioned in 1966 by President Ferdinand Marcos to commemorate the 25th anniversary of World War II, and to remember those who lost their lives at the Battle of Bataan. If the weather is clear we can see the city of Manila and Corregidor Island.
You will be fascinated by the Mt Samat War Museum which has artifacts ranging from pictures and paintings of Philippine and American heroes to armaments used by Philippines, US and Japanese troops during the war.
Finally, we visit the village of Bacolor, home of the San Guillemo Church built in 1576, and see for ourselves the devastating consequences of the 1991 Mt Pinatubo eruption that buried the church almost 2/3 in lava.
On the way back to Manila (around 2.5 hours) you may stop at a cafe on request and purchase a snack, and we aim to drop at your hotel around 6:00 pm depending on Manila traffic condition.
 Itinerary may reverse depending on pick-up point, traffic and weather conditions.
Pickup
Pick up time : 05:00 am.

FREE pick-up from your house / hotel in Makati, Taguig, Ermita, Malate and Pasay.
Additional Php 500 per way per van applies outside these areas in Metro Manila.
Drop off
Depending on traffic , we drop you off at your house / hotel around 18:00 pm.

FREE pick-up from your house / hotel in Makati, Taguig, Ermita, Malate and Pasay.
Additional Php 500 per way per van applies outside these areas in Metro Manila.
Things to bring
Inclusions & exclusions
Included:
– FREE pick-up from your house / hotel in Makati, Taguig, Ermita, Malate and Pasay.
– Deluxe airconditioned roundtrip transportation with driver
– local English speaking guide in Bataan
– Toll & Parking Fee
– Incl. all entrance fees