Tour description
Duration: 15 hours
This Mt Pinatubo Crater Hike Tour requires a very early pick up. It is worth it, however, to see Mt Pinatubo so up close. After 600 years of silence Mt Pinatubo suddenly erupted in 1991, hurling ashes and debris as high as 50,000 feet into the atmosphere. Considered the largest eruption of the 20th century, Mt. Pinatubo is now dormant, having left spectacular lava sand formations. You use a 4×4 jeep nearly all the way up. The hike, guided by a guide,  is roughly 5.5km (2 hours walk) each way, with a total ascent of 300 metres. The terrain is relatively flat until the last 20 minutes where we ascend to the rim of the Crater Lake using a single trail.
Requirements of local authorities strictly imposed:
Pandemic Protocol:
Only 4 persons maximum number per 4×4
vaccination card is required for fully vaccinated guest
i) All guests, without exception, must produce 2 original government issued identification cards or passport. Local Capas Tourism authorities will not accept scans or photocopies.
ii) As the trek to the crater lake is physically demanding, local Capas Tourism authorities have decreed that guests younger than 8 years, 60 years or over and those with physical impairment are no longer allowed to trek.
Swimming and boat ride in the Crater Lake is prohibited as of 3rd January 2013.
Overnight stay before and / or after the trek can  be arranged by us.
N.B. Once you arrived at the registry office at Sta. Juliana, your driver will register your names with the local authorities. Please be informed that the execution of Mt. Pinatubo tours is required to fall under this local authority of Capas. Expect open 4×4 jeeps that are fun, but old. The assigned indigenous people (AETA) merely act as escorts, and although knowledgeable, cannot communicate in English and hence will fall short when you expect a guide. As much as we believe there is a room for improvement, this falls beyond our jurisdiction.
Mt. Pinatubo Crater Hike
From: ₱8,190.00
Pricing
1 person : ₱ 15,120.00
2 persons ₱ 8,190.00 per person
3 to 8 persons : ₱ 5,880.00 per person
Itinerary
Please note that this is a rough itinerary. Times may vary depending on the traffic, how long clients take to do the hike, time spent at the Crater Lake and how long you take for lunch. If clients decide to visit the Aeta Village or Capas National Shrine you will obviously return to Manila later.
03:00 (** see notes under pick-up time) – Filipino Travel and Tours provides a private pick up from your hotel/ house at Manila/ Makati. The drive on airconditioned transportation will take approximately 3 hrs. You can have a quick stop along the way for a 20 mins maximum time for coffee break/ breakfast but you must remember that it is important that we arrive on time.
06:00 – Once you arrived at the registry office at Sta. Juliana- your driver will register your names with the local authorities and transfer you to a waiting 4×4 jeep to take you across Crow Valley. Please note that this can take some time so please be patient. There is an opportunity for a toilet break.
06:30 – Depart for Mt. Pinatubo Crater Lake in an old 4×4 jeep. The journey across Crow Valley is bumpy, dusty and without air-conditioning or seat belts but it is lots of fun and a great adventure. The terrain is moon-like with grey sands, small streams and parched vegetation. You will pass by herds of cattle and local Aeta riding carabao on their way to work. We remind our clients that if you feel uncomfortable with the speed, please ask the driver to slow down- they sometimes get carried away.
08:00 –  After a one hour and a half ride across crow Valley you will reach the start of the trekking point. The hike is roughly 5.5 km (2-3 hrs walking depending on pace) each way with a total ascent of 300 meters. The terrain is relatively flat until the last 20 minutes where you ascend to the rim of the Crater Lake.
10:00 –  After 2 hrs of trek you will arrive at the crater of Mt. Pinatubo. It caters beautiful scenery and the water is either green or blue depending on the weather.
10:30 –  After 30 mins stay at the crater, you will proceed on trekking going back to -Crow Valley that will take another 2 hrs.
12:30 – Arrival at Crow Valley (starting point).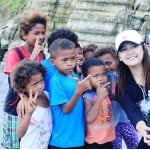 Optional extra (cost Php 500 per hour for waiting vehicle, please tick in your reservation upon booking if you wish to avail)
From here it is possible to divert from the usual route and drive in 1,5 hours to the village of Tarukan, where the indigenous Aetas live. Arrive at 14:00, stay for 1 hour to interact with the villagers or donate your completely voluntary small gift, like eg canned goods. Depart 15:00 to resume drive back to registration point, where you will arrive at 15:45 pm. 
14:00 –  Arrival at the local restaurant near the registration point for lunch.
16:00 –  Latest departure time to proceed with the travel going back to Manila/ Makati. Your arrival time in Manila should be between 6 to 7 pm depending on traffic conditions and location of your hotel