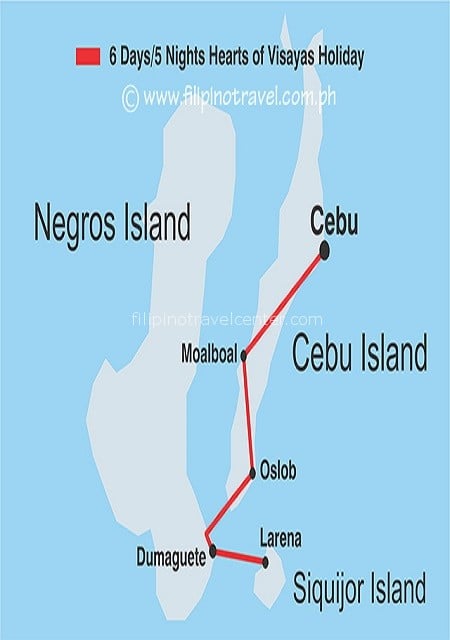 Tour description
Duration: 6 Days / 5 Nights
Tour summary : Mactan airport, Cebu island – Cebu city tour – Moalboal – Choice of river adventure – swimming with Whalesharks in Oslob – Siquijor Island – Dumaguete airport, Negros Island.
6 Days / 5 Nights Heart of Visayas Vacation
This 6 days / 5 Nights Tour starts in Cebu, an island central in the Visayas group of islands. After a short exploration of Cebu City, you drive Southwards towards the small seaside scuba diving community of Moalboal. Using this as your base for 2 nights, you can choose to either make your way up the lush Matutinao Valley, passing the famous Kawasan Falls, visiting numerous small waterfalls, and swim through freshwater pools or an unforgettable canyon tour where you abseil different waterfalls. As if this wasn't enough adventure, the next day you have an unique chance to see the fascinating gentle whalesharks in Oslob. From there you travel to Siquijor, the magical and mystical island of The Philippines, nicknamed " Island of Fire''.
Bookings Form
Itinerary
Day 1: CEBU MACTAN TO MOALBOAL, CEBU ISLAND
On arrival at Mactan Airport  our representative will meet you at arrivals – look out for a placard with your name on.  You begin the tour with a six hour City Tour, visiting places such as the Journey of Portuguese explorer Ferdinand Magellan when he landed in Cebu on April 1521 until defeated by Chieftain Lapu Lapu in the Battle of Mactan. Visit major Cebu landmarks  including Magellan's Cross, Fort San Pedro, Basilica of the Santo Niño and Casa Gorordo Museum and Taoist temple. Visit the National Liberty Shrine, site of the triumphant battle of Lapu Lapu over Magellan and the Shrine of Our Lady of the Rule parish church. Also visit the guitar factory and take home a home made guitar!
We then travel to Moalboal (3 hours land transfer) and your resort where you will stay for two nights.
Day 2: MOALBOAL (Breakfast, Lunch)
After breakfast you have a choice of day tour:
Option A) The River Climbing is one of the most popular one day adventures in Moalboal. We'll make our way up the lush Matutinao Valley, passing the famous Kawasan Falls, visiting numerous small waterfalls, and swim through freshwater pools. We'll see unique rock formations and lush and varied vegetation. An occasional monkey, monitor lizard, butterfly, birds, and other life abounds. The remoteness and lack of habitation have kept this valley undisturbed and preserved, an unforgettable feeling.
OR
Option B) The Montaneza River threads its way through a narrow ravine. It is a perfect setting for an unforgettable canyon tour. We abseil a set of five different waterfalls, climbing and jumping down the rapids. A highlight is the descending of a 30 meter high waterfall with an overhang. Once you rappel the first waterfall, there is no turning back!  At the end of the tour there are springs where you can relax in the water after your adrenaline adventure. The thrill and fun combined with the incredible tropical nature is something you will remember for a very long time.
Day 3: MOALBOAL TO OSLOB FOR WHALESHARK WATCHING (Breakfast)
After breakfast we collect you (time to be adviced) to travel to Oslob for the unique experience of swimming with these gentle giants. After your tour you will stay overnight in an Oslob resort.
Day 4: CEBU MACTAN TO SIQUIJOR, VIA DUMAGUETE (Breakfast)
After breakfast we collect you (time to be adviced) having arranged your land and boat transfer from Oslob to Siquijor via Dumaguete (30 mins land transfer to Liloan or Santander port, then 30 minutes boat transfer from Liloan port to Sibulan).
Upon arrival in Sibulan Port you will be met by our representative who will escort you to the ferry bound to Siquijor's Larena Pier(45 mins). Meet and greet at the pier then transfer to your Beach Resort. Stay for 2 nights.
Day 5: COCOGROVE (Breakfast)
Free day to enjoy. Siquijor is the magical and mystical island of The Philippines, hence its nickname" Island of Fire''.
Day 6: SIQUIJOR TO MANILA, VIA DUMAGUETE
Today we collect you after breakfast, time to be adviced depending on your confirmed flight details, for your conveniently arranged land and boat transfer back to Dumaguete Airport and the corresponding flight to Manila.
Pickup
Day 1 upon arrival in Cebu's Mactan Airport kindly proceed to the arrival area then look for our representative holding a placard written your name.
Drop off
Day 6 Dumaguete airport
Things to bring
Inclusions & exclusions
Inclusions:
Private Cebu Twin City Tour Day 1 with airport pick-up
2 nights accommodation in Moalboal, 1 night accommodation in Oslob, 2 nights acccommodation in Siquijor, all with breakfast included
Day tour on Day 2 (your choice : River Climbing or Montaneza River), lunch included
Oslob Whaleshark Tour Day 3
Private transportation from Cebu City to Moalboal & Moalboal to Oslob
Land transfer from Oslob to Santander port via local jeepney, sit-in boat ferry transfer from Santander to Dumaguete Pier, roundtrip sit-in boat transfer from Dumaguete Pier to Siquijor and roundtrip land transfer from Siquijor Pier to Siquijor resort.
Exclusions:
All domestic airfare, lunch (except day 2), dinner.
Customised extensions available upon your request:
OPTIONAL EXTRA  a) 3 Days / 2 Nights Boracay Package before Day one (1).
OPTIONAL EXTRA  b). From Siquijor to Bohol Island for 3 Days / 2 Nights Bohol with Countryside tour.
NOTE : Itinerary might reverse depending on flight and local weather conditions. Rates are subject to change without prior notice.