About Mindoro Island:
Mindoro island is the nearest big island to Manila. The island has been well preserved, because there is no airline connection and its hinterland is mountainous and sparsely populated.
Puerto Galera, part of Mindoro Oriental, is most known. You can only get there by land transportation
(one way 3 hours from Manila) plus boat (2 hours one way from Batangas Pier). The place is popular among Europeans and Expatriates living in Manila as Puerto Galera offers over 25 dive spots nearby and a wide variety of food. Kayaking, trekking, beach hopping, hiking in the hinterlands and golf are available activities beside scuba diving. Obviously this place can be crowded during weekends and holidays.
Puerto Galera is composed of different inlets, stretching 42 kilometers. From Sabang, full of commotion due to its bars and active nightlife, via Big Lalaguna and Small Lalaguna, all the way up to White Beach. Sabang and White Beach host, as a general rule the more economical accommodation. Just around the corner of White Beach are the more undeveloped, wide beaches of Aninuan and Talipanan, better suited for a romantic holiday or a family stay combining divers and sunbathers.
It takes up to 2 hours by public transportation to go by land from one end to the other within Puerto Galera area. A faster alternative is to charter a boat. The cost depends on your negotiation skills…bartering is a way of life here, join in and have fun!
From: ₱16,895.00 per person, based on 2 people sharing 1 airconditioned Junior Room (2nd fl , hot shower, own balcony with seaview)
Inclusions:
*Private roundtrip airconditioned transfer from your Manila/Makati Hotel to Batangas Pier
*Roundtrip commuter ferry boat from Batangas Pier to resort
*2 Nights accommodation in Sunset Aninuan, based on 2 people sharing 1 Junior room
* 2 continental breakfasts
*1 whole day Inland Tour Incl. Driver & Transportation, Entrance fees, Barbeque lunch (=Fish,Pork,Chicken), fruits, vegetable salad plus local drinks.

Duration: 3 days / 2 nights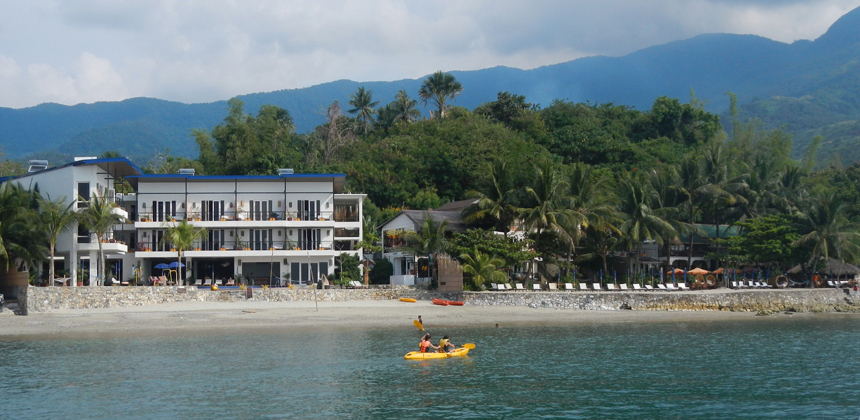 ---
Your resort is located on the tropical island of Oriental Mindoro. Aninuan Beach, on which your beachfront Sunset resort is located, is the more quiet longer strip of beach, suitable if you're a honeymooner or family travelling with young children. Walking distance from White Beach—the place for young people to go for nightlife. The resort has a swimming pool, fitness area, small spa , beachfront bar/restaurant, dive center and offers friendly service.
Itinerary
Rates subject to change and not valid on long weekends and super peak dates.
Day 1
Early morning , our airconditioned, chauffeur driven car will pick you up from the hotel you are staying in in Manila or Makati. Using the toll way as much as possible, we will drive about 2 hours South to reach the pier in Batangas. Here our driver will assist you to find the right commuter ferry boat for your 2 hours ferry ride to Puerto Galera pier where the resort's representative will await you. After 15 minutes by land you will reach your destination for check-in. Rest of the day free to relax and enjoy the beach.
Day 2
Breakfast. Be ready by 9 am to depart for your guided tour inland. Experience Tamaraw Falls, Sightseeing, Drive to Water Buffalo Station, Water Buffalo Ride or option to Walk to Tukuran Falls. Swimming and lunch by the river or falls. Visit to a
local village and hanging bridge and Ponderosa Panoramic Viewing.
Day 3
Breakfast. Check-out. Boat plus land transfer back to your hotel in Manila / Makati.
Bookings Form