About Puerto Princesa
Puerto Princesa, is a city located in the western provincial island of Palawan, Philippines and part of Luzon.. It has been acclaimed several times as the cleanest and greenest city in the Philippines. Puerto Princesa is known as the Eco-Tourism Center of the Philippines. In recent years, the city has seen a remarkable increase in the number of tourists bringing with them trade and businesses for the city. Many hotels ranging from basic to four-star luxury accommodations have been developed since the 1990s to cater to a growing number of foreign and local tourists in the city. There are also a large selection of restaurants, bars, and shops including the recently completed Robinsons Place and SM shopping malls.
If you are looking for adventure beyond Palawan's pristine beaches, this city offers a regulated tour through the longest underground river in the world. The Puerto Princesa Subterranean River National Park located 50 km north of the city. It was named one of the New7Wonders of Nature. Paddling Through the navigable portion 1.2 km of the 8.2 km Underground River is a journey through time, its karstic chambers serve as a natural canvas on which vignettes of the past are geologically preserved.
The Honda Bay Island, which includes snorkeling and a bbq on the beach is usual included in the itinerary when visiting Puerto Prinsesa. The city which has few sights on its own is also the jump-off point for trips going to Port Barton, San Vicente and El nido and for the divers Tubbataha reef.
From:₱15,540 per person, based on 2 persons sharing one room.
Inclusions :
* 4 Days / 3 Nights air-conditioned superior accommodation with beachview in Puerto Princessa. Note_Should you wish to upgrade to deluxe accommodation close to the Underground River, Sabang instead of Puerto Princessa an additional charge of Php 11,160 per person applies.
* Use of swimming pool
* 3 Breakfasts
* 2 lunch during tours on Day 2 & 3
* All transfers (except roundtrip domestic airfare for which we can assist you)
* 2 day tours as specified in the tour itinerary.
Exclusions: Domestic airfares. We are pleased to arrange your domestic airline tickets for you.
Duration: 4 days / 3 nights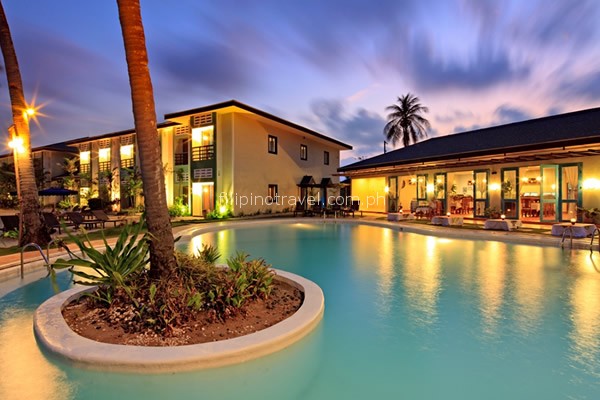 ---
Puerto Princesa can be reached by flights form Manila and Cebu.
This Central Palawan Discovery vacation tour uses the white-sand shores of Emerald Beach (the only beachfront hotel in Puerto Princesa, 7km from the airport) as a base. On a day tour you will visit St. Paul's Subterranean River National Park in Sabang, often viewing monitor lizards and monkeys en route. This 5,000 ha forest with beautiful views of cliffs and the seapark is set in a tropical mountain-to-the-sea ecosystem. Day 3 we included a daytour of swimming and snorkeling visiting the islets spread on the waters of Honda Bay, Palawan.
Itinerary
Rates subject to change and not valid super peak dates.
Day 1
Pick up at your hotel in Manila (time tba depending on your flight departure time) for transfer to the domestic terminal for your one hour flight to Puerto Princesa. We will meet you on arrival and escort you to your hotel located on the only beach of Puerto Princessa.
In the afternoon you visit the Crocodile Farming Institute, the Iwahig Penal Colony, both situated at the outskirts of Puerto Princesa, as well as you will have the opportunity to try traditional basket weaving under the expert eye of a local weaver in Binuatan.
Return to your hotel afterwards.
OPTIONAL EXTRA – DAY 1: Iwahig River Firefly Tour (6.30 -10 pm). Assist the local people, and maintain the beauty of this site, by supporting this new eco tourism program. Learn about the mangroves where the fireflies ("alitaptap") choose to stay and witness them glowing.
Day 2
After breakfast, you travel in PRIVATE airconditioned car with driver to see the St Paul Mountain Range, 2.5 hours away, in Sabang. You continue with an one hour guided walking tour to the mouth of St. Paul's Subterranean River National Park. The park's principal feature is an underground river, over 8km long and known as the Subterranean River or St Paul Cave. The surrounding area is inhabited by local Tagbanua communities. The fact that this underground river flows directly into the sea will be a rather special experience in your one hour guided paddle inside.
Upon your return enjoy the included lunch in Sabang. Then time to head back to Puerto Princessa, where the remainder of your day is free to relax.
Day 3
Breakfast. Morning transfer by private air-conditioned vehicle to the wharf where you board a local outrigger boat. Enjoy a relaxing day on a local outrigger boat with an island picnic lunch, swimming, snorkeling and hopping the islets spread on the waters of Honda Bay, Palawan.
Day 4
After breakfast, relax till check out time. We have already comfortably arranged your boat and land transfer back to Puerto Princesa airport for your afternoon flight back to Manila. In Manila, transfer from domestic airport to your hotel or to the international airport included again for your comfort.
Bookings Form