1. Where is the airport terminal?
2. How far is it from one airport to the other (Manila)?
3. Can I get transportation from the airport terminals?
4. What is the minimum required time between flights?
5. How much luggage may I bring?
6. Where could I leave luggage?
7. Do I need to reconfirm my domestic flight?
8.What is aviation security fee?
9. Is there a terminal fee?
10. Again another (fuel) surcharge?
11. What is 12% VAT?
12. What is travel tax and how much and to whom does it apply?
13. What is the date to cancel an airline reservation without penalty?
14. Can I change money upon arrival?
15. Anything else I should know ?
1. WHERE IS THE AIRPORT TERMINAL?
MANILA has four (4) airport terminals, located on four (4) different locations :
a) Ninoy Aquino International Airport (NAIA), also called Terminal 1 = for all international flights, except Philippine Airlines, Cebu Pacific, Cathay Pacific, All Nippon Airways, Delta Air, Emirates Airlines, KLM Dutch Airlines and Singapore Airlines.
b) Centennial Airport, also called NAIA Terminal 2 = all international + domestic of Philippine Airlines exclusively.
c) Terminal 3 (NAIA 3) = all international + domestic of Cebu Pacific, Air Asia international flights, Cathay Pacific, All Nippon Airways, Delta Air, Emirates Airlines, KLM Dutch Airlines and Singapore Airlines.
d) Terminal 4, NAIA 4 (formerly Manila Domestic Airport located on the old domestic road in Paranaque City) = flights of Cebgo and Air Asia domestic flights, Skyjet and Airswift.
The other point of international entry is CEBU, called Mactan International Airport. This is directly serviced by the following Asean carriers: Silk Air (Singapore), Cathay Pacific (Hongkong), Cebu Pacific / China Airlines (Taipei), Pal (Narita), PAL /Cebu Pacific (Seoul) and Malaysian Airlines (KUL & Kota Kinabalu).
CLARK Airport, in Northern Luzon, also serviced by low cost carriers like Tiger Airways, Air Asia and Cebu Pacific Air.
LAOAG Airport, in Northern Luzon, is mainly used for charter flights to/from China & Taipei.
DAVAO Airport, on the southern island of Mindanao, Silk Air flies to Singapore and flight from Indonesia
ILOILO International Airport, located on the western Visayas with Cebu Pacific flight from Hong Kong.
KALIBO International Airport, located at the western part of Visayas, (charter) flights from Shanghai, Kuala Lumpur and Korea
2. HOW FAR IS IT FROM ONE AIRPORT TO THE OTHER (Manila)?
NAIA is located ca. 7 km south of the main tourist area Ermita/Malate and ca. 7 km of the main business area Makati. The Manila Domestic airport is ca. 3 km away from NAIA.
The Centennial Airport is located between NAIA and the Domestic airport at ca. 1 km east of NAIA. Terminal 3 is ca. 0.7 km from Manila Domestic airport.
To get from one airport to another is expressed in time rather than in kilometers, due to permanent traffic congestion. Simply to get from International Terminal 1 or 2 to Manila DomesticTerminal can take up to one (1) hour! And from Terminal 3 to Manila Domestic Terminal will minimum take a half hour. There is a free shuttle bus between the terminals but due to traffic congestion departure from one terminal to the other terminal are irregular.
3. CAN I GET TRANSPORTATION FROM THE MANILA AIRPORT TERMINALS ?
Yes, you may either choose a regular metered white or yellow taxi, Coupon Taxi or use the shuttle bus service.
For first time arrival in the Philippines we dont recommend taking white taxi's as some of them are involved into scams.
Metered taxis are white or yellow colored whereas the yellow taxi are only operating to and from the airport at a slightly higher metered fare than the white taxi's. Flagdown rate is P70.00 and P4.00 after every 300 meters for the yellow taxi and Php 40.00 and Php 3.50 after every 500 meters and Php 3.50 for the waiting time per 90 seconds. For example: yellow taxi cost from the airport to Makati City is about Php 250 pesos compared to the fixed rate of the coupon taxi of Php440.
The Coupon Taxi (also called the Airport Taxi) has fixed rates, is larger and can comfortably accommodate 4 medium sized luggage or more and is a good option for a group of travellers that wish to stay together.
Started February 2016 for a Php 300.00 UBE express provides bus services to Makati, Glorietta and Roxas Boulevard near the Hotels, Mall of Asia and Robinsons. Shopping mall schedule for the moment is irregular.
If you arrange your tours with Filipino Travel Center, we conveniently assist you with a PRIVATE, chauffeur-driven airport transfer as part of your itinerary. Depending on which terminal you arrive, please proceed to the following location (see picture) and wait there for your driver to arrive :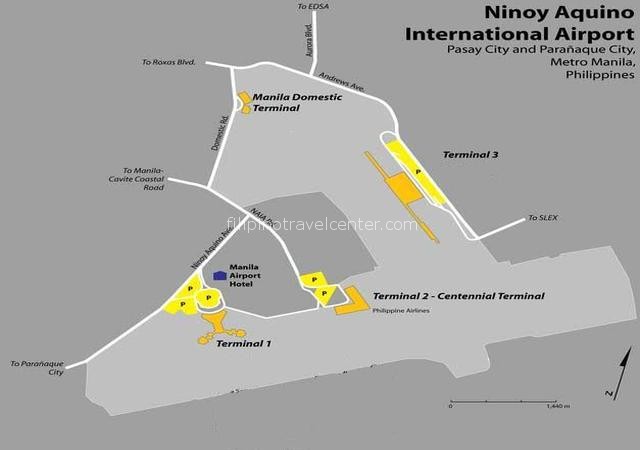 ---
4. WHAT IS THE MINIMUM REQUIRED TIME BETWEEN FLIGHTS ?
Measured as time needed between your estimated time of arrival and your arrival at the check in counter for your next flight. Minimum connecting time from domestic flight to international flight is 4 hours or 3 hours incase of PAL. Minimum connecting time from international flight to domestic flight is 3 hours. This is valid for Centennial airport.
Domestic check-in counters open two (2) hours before scheduled flight – / ferry departure. You have to be there latest two (2) hours before published departure time. Your confirmed reservation shall be cancelled and released to waitlisted passengers if you fail to check-in at least 45 minutes before published scheduled departure.
Please note: You have to present proof of identity. Bring it (or a copy) with you.
5. HOW MUCH LUGGAGE MAY I BRING ?
Baggage allowance varies a lot between all available airlines and applicable booking class. Especially destinations within The Philippines with shorter runways (egCaticlan / Boracay or Batanes) are serviced by smaller aircrafts and baggage allowance of only 10 kg might apply if you have additional kilos there is additional charge of about Php 200.00 to Php 250.00 per kilo. Always check before finalizing your airline ticket.
6. WHERE COULD I LEAVE LUGGAGE ?
In NAIA-1 and NAIA-2 you find a luggage hold near the baggage carousels on arrival level.
In NAIA-1 There is only a little door and no sign. So when you are near the carousels, ask an employee for the Interline Baggage Room (phone: +63 2 877-1109 local 3633).
NAIA-2 has an exclusive baggage storage counter for PAL passengers. This service is located at the terminal central baggage center, at Mezzanine level near the arrival of domestic area. The cost is around PHP 170 per piece per day (subject to change). Guests are requested to present their tab and receipt upon claiming of luggage.
The only real luggage hold can be found in NAIA-3. Luggage and More handles and stores your luggage for both short and long period of time. Located at the arrival level, the "Luggage and More" facilities are covered by a 24-hour CCTV system to ensure the security and protection of all items left with them. Operating hours is from 6 am – 11 pm. daily. Baggage will under no circumstances be released outside the published operating hours.
NAIA-4, the "Old Domestic Terminal" offers absolutely no baggage service.
7. DO I NEED TO RECONFIRM MY DOMESTIC FLIGHT ?
Actually no need. But to be sure about the final schedule you could contact the airlines to reconfirm.
8. WHAT IS AVIATION SECURITY FEE ?
Applies only for the airline segment originating from any other airport than Manila. Generally only Php 15.00 plus 12% VAT per segment, collected by the airline upon purchasing your domestic ticket.
9. IS THERE A TERMINAL FEE ?
Effective 01August,2012 Terminal fees for flights originating in Manila and Cebu and a few other terminals are included in the ticket price.For most domestic flights the terminal fee is Php 200. International departure Php 550.00 per person.
10. AGAIN ANOTHER (FUEL) SURCHARGE ?
Effective end of 2004 all local airlines imposed a fuel surcharge when flying within The Philippines. In line with their international counterparts, they chose not to incorporate this in their rates.
11. What is 12% VAT?
The increase in the prices of oil products lead to the implementation of VAT on all domestic airline and sea tickets. Effective February 1, 2006, the 12% VAT is mandated by the VAT Reform Law.
12. WHAT IS TRAVEL TAX, HOW MUCH AND TO WHOM DOES IT APPLY ?
Payment of Philippine travel tax is imposed by law for all Filipino Passport holders, returning resident (immigration status 13 A,B,C,D,E,G) , Recognized Filipino Citizens (RFC) & Permanent Residents (immigration status RA 7919 & RA 7837), as well as other nationalities stayinglonger than one (1) year in The Philippines.It must be paid only upon leaving The Philippines. It is charged by the airline on top of the purchase price of your international ticket. Foreign nationalities may therefore be requested by their travel agent or airline to show their passport with visa status, or in its absence, the latest stamp of arrival in The Philippines.The amount is Php 1,620.00 per adult.
13. WHAT IS THE TIMEFRAME FOR CANCELLING AN AIRLINE RESERVATION WITHOUT PENALTY ?
Once you finalized your reservation with us, airlines do always charge for cancellation. The exact charge varies per supplier, booking class used (promo classes for example are completely non refundable) and per how much time in advance you cancelled. Generally, cancellations made more than 48 hours prior to estimated departure time are charged between Php 672 to Php 1344 per passenger per sector, subject to change.
If you fail to cancel more than 24/48 hours depending on the airlines, your payment is automatically forfeited.
14. CAN I CHANGE MONEY UPON ARRIVAL ?
NAIA Terminal – Yes, various banks have offices there.
PAL's Terminal – Yes, various banks have offices there.
Domestic Terminal – Yes, opposite the airport road & Money Changer inside.
15. ANYTHING ELSE I SHOULD KNOW ?
Especially during rainy season, schedules might be cancelled. Regular domestic flight schedules are revised at least four (4) times a year. Shipping companies change schedules at random. If you have an international flight to catch, you should take this into account when planning !
Super Peak Season in The Philippines – Imagine at least 10 million people on the move !
During the following periods all means of transportation are usually fully booked far in advance: Christmas / New Year: December 15 – January 5 and Easter : March or April.