PRIVATE BANAUE & SAGADA RICE TERRACES TOURS:
Can we change your suggested itinerary?
Yes, you can always request to customise a PRIVATE Banaue and Sagada Rice Terraces Vacation. For example by adding additional day tours to it, like Mt Pinatubo, Subic or Angeles, a World War II History Tour in Bataan, Hundred Islands and/ or Vigan. All are major Philippines tourist destinations in their own right,  and provide a pleasant stopover en route to other destinations.
We are the leading tour operator in tours to the mountains of the Northern Philippines and happy to assist to customise your Banaue and Sagada Holidays to your personal liking. 
How many hours is the drive from Manila to Banaue?
Depending on traffic, 8-10 hours. This includes scenic photo stops along the way. Nearest airport is Cauayan which is 4-5 hours drive to Banaue.
Please note that flight changes or cancellations might have an effect on the whole tour.
Do you pick-up/drop-off from/at any hotel or airport in Manila?
For our  PRIVATE  Tours we pick you up and drop you off at any place in Manila/Angeles.
What clothing should we bring?
We recommend you bring insect repellant, walking shoes, flashlight, rain gear, sweater and swimming attire.
What kind of accommodation you provide  do the rooms have aircon?
We use the best accommodation available in Sagada and Banaue, limited to one or two hotels/pensions at each destination. The mountain accommodations do generally not require air conditioning as the temperature is much lower higher up. Our hotels in Vigan, Tinglayan, Subic, Angeles and Tarlac all have air con.
How far from Banaue to Batad drop off point( the saddle) and view point in Batad.
It's a 30 minutes travel by jeepney or car and a 15 minutes walk to the viewpoint at Batad.
Check our Banaue Map.
What activities are available at Batad viewpoint?
Lunch or drinks, if you wish to rest
Hike to Batad Village. 1.5 hour hike back and forth
Visit the Tappiyah waterfalls, a 2.5 hour hike back and forth.
Cambulo village 3 hours back and forth
Hike to Banga-an village. 3 hours, then we pick you up there and return to the hotel. In Banga-an village is a restaurant.
There are many rice terraces. Why you recommend Batad?
It is a UNESCO World Heritage site and is the most accessible location from Banaue. It also has the best views!
Why do you use a jeepney to get to Batad drop off point?
Local regulations insist on local jeepney use if staying in Banaue Hotel. Moreover, this provide local livelihood, we fully support this initiative.
Do we need a guide ?
Yes, local regulations both in Sagada and Banaue insist on local guide provision. Therefore our shared Sagada and Banaue Tours already include English -speaking (basic level) local guide hire in Banaue and Sagada. We can request our favorite guide.
You have the option of booking, at an additional cost of PHP 5000 per day, German, Dutch, Spanish, French or Russian speaking guides. Their food and accommodation is a further cost, specific price dependent on destination.
I see Banaue and Sagada tours offered at lower prices on the internet. Why should I book with your company ?
Most of them are not licensed. We are accredited by Department of Tourism (DOT), Philippine Tour Operators Association (PHILTOA) & Phillipine Travel Agency Association (PTAA).
They use old vehicles, often transporting in excess of 12 passengers. Our tours are for 7 guests maximum, transported in our luxury fleet of (mostly) new Toyota Grandias and Mitsubitsi Montero Sport in case of 3 persons or less. These are upgraded to even more luxurious transport for our Private Banaue Tours. All our vehicles are under 4 years old and regularly maintained in authorized service centers. We offer free WIFI, subject to availability, ipod/ipad connection points,a coolbox for drinks and E-tag for easy access on the toll ways. Your safety is our primary concern but we strive to provide comfort too.
Others drive at night. We prioritize your safety by driving only in the daytime. If you insist on night driving, we will provide at extra cost a second driver.
Others use the cheapest accommodation, we choose the best available accommodation in the area for you.
Others surprise their guests with "hidden extras". Our prices are as advertised.
Others employ drivers who have difficulty in conversing in English, cannot also act as a guide and/or are not familiar with the mountain area. Our drivers speak a good level of English, are also experienced tour managers with long records of safe driving of tour parties. Guest comments on online forums and TripAdvisor.
Are you insured  in case of a car accident?
We highly recommend that you have a valid general travel insurance policy. General liabilities and insurance coverage is very basic in the Philippines.
Where can I find more information about  the Cordillera's, including Banaue, Batad, Bangaan, Bontoc, Sagada, Kalinga, Baguio, Vigan, Laoag, Pagudpud, San Juan and Hundred Islands, Baler and Tuguegarao ?
All this destination information, can conveniently be found by clicking this link
Which cars are being used ?
Our luxury fleet of cars are all under 4 years old, have WIFI connectivity (although not available in all mountain areas), IPad/IPod connections, air conditioning, cool box and E-tag for access to fast, dedicated, lanes at toll gates.
We offer Toyota Grandias with 6 captain seats (reclining, with armrest), good for 7 guests traveling with average sized suitcases, max 20 kg.
We also offer the Toyota Grandia 11 seater that, for your comfort, we restrict to a maximum of 7 guests, 8 for day trips. This allows for 20kg luggage per guest.
For small groups of up to 3 guests maximum we offer even more comfortable 4×2 and 4×4 Mitsubishi Montero Sport 7 seaters.
During the peak season availability of specific transport might be limited so we recommend you book early to ensure you are able to travel in your car of choice.
Do you pick-up/drop-off from/at any hotel or airport in Manila?
Yes, for our PRIVATE Tours we can pick you up and drop you off at Makati, Taguig, Ermita , Malate and Pasay, be it your hotel/home or airport. Additional charge applies outside these areas.
Can we travel to the other rice terraces?
Yes,  The journey from Banaue to Mayoyao rice terraces is 1.5 hours ride and Hapao rice terraces 30 minutes.
Which locations do you recommend driving to after Banaue?
Sagada (2 hrs away), Baguio (7 hrs away), Kalinga (Tinlayan) 2 hours (dry season and 4×4 car) Vigan (6 hours ) and Tuguegarao (8 hrs away).
How long are the journeys to the other recommended sites from Sagada?
1,5 hour less than the above journey times.
>> Click here for map of Sagada and surroundings.
What are your recommendations for places to visit ?
Sagada itself is a relaxed town. In Sagada you can participate in caving and rock climbing.
Kalinga has a mystical, untouched feel to it. 
For history and culture buffs we recommend Vigan.
Baguio is a well-known tourist destination among Filipinos. However for most foreign tourists, it has few sites of interest, feels overpopulated and usually suffers from very heavy road traffic.
Can the 10 hour trip from Vigan to Manila be broken with stopovers?
Yes, you could either fly out from Laoag or you can stay overnight near 100 Islands in Lingayen. It has a nice beach and a children's water park attached. The water park is open Tuesday-Sunday. Or we can make a stop at San Juan, 3 hours from Vigan and enjoy the waves (depending on the season).
Can you recommend a place in the North for beach lovers?
Yes, Pagudpud – 4 hrs travel from Vigan by car, and 2 hrs travel from Laoag by car, has the best beach in Luzon, remote, quiet and relaxing but quality accommodation is lacking.
Can I shorten the trip by travelling during the night?
Although others do so, we strongly advise against this. Many road users, such as tricycles, do not have backlights, roads are unlit and occasionally have rough surfacing. If absolutely necessary, we only travel at night with two drivers, at extra cost, as your safety is our top priority.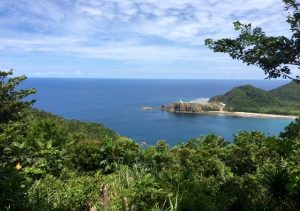 Another option to explore in North Luzon by car is Baler, which in recent years has become known as a seasonal, rather cool, surfing destination.
From Baler our experienced driver can drive you to Banaue or Tuguegarao, where the famous Callao caves are the premier attraction, beside rafting when the rainy season provides enough water to do so. Being the most accessible of all the caves, its entrance is reached by climbing 184 concrete steps. The Callao cave system is composed of seven chambers, each with natural crevices above that let streams of light to get into the cave, serving as illumination. See our "Tuguegarao Short Holiday".
If you like off-the-beaten-track, have time on your hand, do not mind to roughen the journey up and are prepared for the unexpected: From Tuguagarao one can drive, via Tabuk through the Kalinga area, all the way to Sagada.
More of the beaten track options are to drive to Santiago, a 2 hour drive from Solano and 6 hours away from Baler. From Santiago you can reach the Mayayao rice terraces in 3 hours and same road goes all the way to Batad and Banaue, which takes another 2 hours.
Where can I find more information about  the Cordillera's, including Banaue, Batad, Bangaan, Bontoc, Sagada, Kalinga, Baguio, Vigan, Laoag, Pagudpud, San Juan and Hundred Islands, Baler and Tuguegarao ?
All this destination information, can conveniently be found by clicking this link