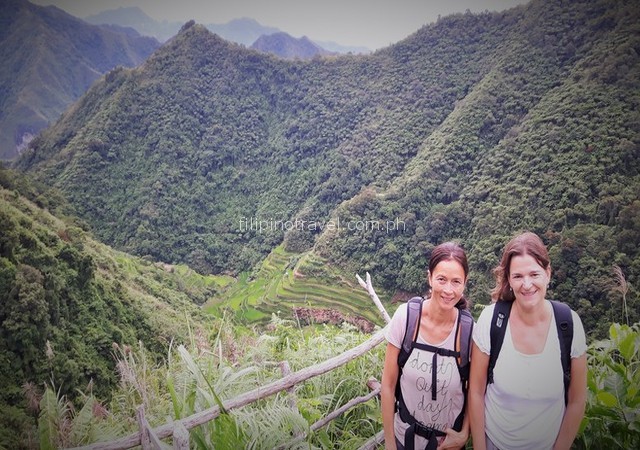 Tour description
Duration: Depart Wednesday, back Friday (3 days / 2 nights)
This SHARED tour departs only every Wednesday, in the period December 1-  May 31. 
Route Summary : Manila-Banaue-Batad Village-Manila
This is  8 hours drive away from Manila (there is no local airport) so days 1 and 3 are spent driving, while you can relax in our comfortable, new tour bus and see the changing scenery of The Phillippines unfold before you.
Includes an exciting ride in a local jeepney to a drop-off point from where you will hike, with a local tour guide, a mountain trail to a traditional local village nestled within a panoramic valley of  rice terraces where you can visit a traditional home to meet the local people and experience their way of life handed down from one generation to another.
3 Days / 2 Nights SHARED Banaue Escape. Depart only every Wednesday in period December 1 – May 31
This Tour is ideal if you only have a short time frame but don't want to miss the famous Banaue Rice Terraces – stunning 2,000-year-old terraces carved into the mountains of Ifugao in the Philippines by ancestors of the indigenous people. The Rice Terraces are commonly referred to as the "Eighth Wonder of the World" by Filipino people
Itinerary
Wednesday: Manila-Banaue
06:30 – Depart Manila for Banaue via Nueva Ecija and Nueva Vizcaya and stopping at San Jose for lunch (at own expense). We then stop at one of the scenic lookout points along Dalton Pass followed by late afternoon arrival in Banaue.(Optional) Yamashita surrender site, Kiangan Shrine, and the Ifugao Museum.
Thursday: Banaue – Batad Village
08:00 – We have an early breakfast and then you depart with your English-speaking local guide. From Banaue Batad is approximately 16 kms away, the first 14 kms of which will be traveled by our privately chartered local jeepney. The rest of the distance is on foot using a mountain trail. The trip to Barangay Batad in Banaue, to witness the amphitheater shaped terraces located at 3600 ft., takes only a 30 minutes hike.
We stop at the panoramic Banaue viewpoint at 4800 Ft. that provides a perfect experience of the enormity & extent of the terraces followed by a visit to the Banaue Museum. Banaue Museum features decades-old books by anthropologist Otley Beyer and Igorot artefacts collected by his son William. The museum is on two floors featuring weaponry, jewellery, traditional dress and photographs of Banaue 100 years ago.  
Time permitting we can stop at the market and souvenir shop before dinner.
Friday: Banaue via Baguio City-Manila
Leave at 07:00 am after breakfast, take the other route back to Manila via Baguio – Nueva Vizcaya Road. The winding road up to Baguio is very scenic with spectacular vie of the Mountain side, brief stop at Ambuclao Dam view deck to see one of the oldest hydro electric power plant in the Philippines and used to be the biggest dam in Aisa. Lunch at Camp John Hay in Baguio City (pax account), continue the drive back to Manila after lunch.
Arriving in Manila at approximately 18:30 pm, depending on traffic and weather conditions.
Pickup
1. Starbucks located opposite of Shangri-la Hotel Makati
2. Next to Malate Pension at Erras Vest Ramen Bar & Grill
Drop off
Friday around approx. 18:30 pm at Parking Area of Zamboanga Restaurant, Adriatico Street corner 524 Pedro Gil, Malate (parking area next to Filipino Travel Center office), Manila.
Things to bring
Sunscreen, hat, insect repellent, refillable water container, walking shoes or strong sandals, swim wear, waterproof jacket, spare dry clothes, (optional) educational giveaways like crayons for children in place of money/candy.
Note: Baggage allowance limited to max. 20 kg per person.
Inclusions & exclusions
Inclusions:
-Roundtrip transportation by luxury airconditioned vehicle Manila- Banaue-Manila (FREE WIFI onboard for first 3 bookings) with English speaking driver to and from Parking Area of Zamboanga Restaurant, Adriatico Street corner 524 Pedro Gil, Malate (parking area next to Filipino Travel Center office), Manila.
-Fuel, toll fees, parking fees & registration fee
-2 Nights best available, run of the house, accommodation (twin sharing basis. Single supplement applies ) with hot water shower incl. 2 breakfasts, local taxes & service charges
-1 day mountain trail hike to a local village including a local English speaking guide and partly using local jeepney. Choice of Batad or Banga-an village.
-Viewpoint & Museum visit, including Museum entrance.
Exclusions :
-Customised extensions not available. Should you wish so, please book the PRIVATE version of this Banaue tour.